Hire Android app developer
Hire Android app developer is not as easy as it seems to be, and Android is the best platform which captures more than 75% market of mobile phone, a good developer can turn your app idea into reality, whether you want to create the mobile app from scratch or want to use the existing app as a base of your idea and start building a mobile app based on your idea,
There are some pro tips mentioned below which will explain how you can get your own perfect app developer by following step-wise steps,
Don't Hire Android app developer before measuring his expertise –
The Problem you may face to hire an android app developer –
To Hire android app developer This is something we need to analyze before hiring because all developers do not tell you all story behind their expertise until they are hired, to know about his expertise you may require his past work but you still don't know that the past work which they gave you is developed by him or not so still you are not capable to acquire perfect developer so what you can do in this case?
The solution –
Before Hire android app developer there are several things to examine and test their expertise there are several ways mentioned below in the list:
Ask for their University certificate of base programming (PHP, java, react naïve etc.) like what other company does when they hire a developer for their own agency.
Do not Follow the reviews – Most the people blindly assign a developer for him who has a number of good reviews, please do not do it because the hiring process is not that simple better you should hire a person who has a good understanding of your project and should know about the outcomes will be beneficial for you.
Measure the cost per hour according to his past work
Measure how many people going to involve in your project and you need to measure how much time is consumed by each person all calculation is right and fit to your pocket then you can hire that team.
A good proposal writer may not be a good programmer –
There is some logic behind this saying because the programmer is an expert with programming not proposal writing so if you are going to award your project someone who wrote a perfect app proposal for you may not be your tech guy but he may be the sales guy who took your project and cut his commission and forward to another team, Now
what's the problem with another team he assign to complete his project? –
Because another team did not contact the direct client so many issues are there like communication gape, and project understanding, so however if that team make a complete project then this will be a blind project and developed by someone who doesn't want to accomplish your goal, so better to communicate with the person and assign the small job and check the quality of the work, If they meet the quality and easy to work with never leave him because he is your assets.
Fixed cost project or hourly-based project?
Before hire android app developer you should know your budget but if you have a budget problem its a good idea to not create the mobile app because you are not going to succeed if only you develop a mobile app there are still other things you need to remember after developing a mobile app like Hosting expenses, Promotion expenses, maintenance expenses, UI expenses etc.  so if you have sufficient budget to launch your idea then only we should move into the game,
Why do I am preferring hourly-based projects? –  It's my years of experience by which I can say that hourly project success rate is much hired in comparison to fixed-job because whenever a developer starts the work he did some research about third parties APIs and integrate and test several APIs for perfect outcomes but some people bound developers creativity is fixed kind of project, In fixed project developer distribute his work according to cost but some times and some functionality requires testing and research so because he is not getting paid for testing and research so he skips the part hence the development result is not so good.
Opt Freelancer or agency to hire Android developer? –
After hiring many years to hire android app developers I reached the conclusion that a freelancer is not the right fit to develop your mobile application but the agency is, why I am telling you a specific for the agency for mentioned below points,
Why we should not Hire freelancers? –
A freelancer is a person who has a specific set of knowledge, who has passed out the university and gain some experience by doing clients' projects so technically says by doing work on your project he is going to learn something and no one wants to burn their hands by assigning their projects after reading several bad reviews I found freelancer has not sufficient skills set to accomplish each project because each project has different work scope and a single person may be good at programming but not in research part who can research about your market and your competitor, sometimes we found that our project needs specific attention for a particular functionality but freelancer only focus to complete the job and earn the money, but in agency case, they have a proper team for doing everything like competitor research, sales team, management team, account team, so in short you will get what you want in a professional way.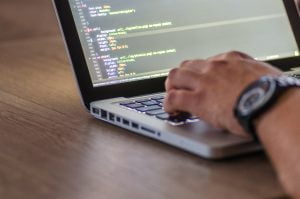 When you are hiring a mobile app developer you are sure about their quality delivery, A mobile app development agency is a registered agent you can verify from the date of registration which indicates the years of experience, and every agency needs to pay their developer's salary on time that's why they put the best efforts to accomplish your project but also they will keep in touch with you for upcoming expenses like maintenance and server setup etc. so they will take care of your online business because they want to earn from you a long time.
but in freelancers' cases, there are several platforms online that continuously provide projects to them so all freelancers will be in rush to complete the project.
Conclusion:
The world of mobile app development is quite huge. A large volume of mobile apps is launching every day, which has further raised interest levels. Minor mistakes can eventually turn up to be a significant loss anytime. Hire android app developer from appoks Infolabs can help you in developing unique, well-functioning, and high-performing applications without any issues. One should need to work on different factors and organize the application development process so that it could eventually end up with absolute results where you can get through appoks.
If you are planning to develop an app and don't have any idea, you can quickly go through the different tips we have given you above to create the best and perfectly functioning app. If you have any queries, you can ask for them in the comment section.